Oral and Maxillofacial Surgery Clinic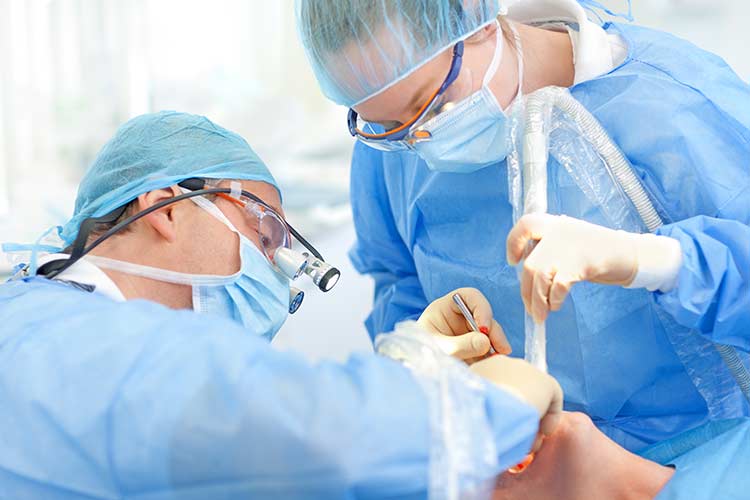 What is Oral Maxillofacial Surgery?
Oral and maxillofacial surgery is the dental specialty that includes the diagnosis and related treatment of diseases, injuries, and defects that involve both the functional and aesthetic aspects of the hard and soft oral and maxillofacial structures tissues. 
Because of their surgical and dental training, oral and maxillofacial surgeons are uniquely qualified to treat the face, mouth and jaw. Our providers have earned doctorates in both dentistry (DDS or DMD) and medicine (MD).
The OMFS Clinic treats a wide variety of conditions and offers a full spectrum of surgical therapy. Services include:
Wisdom tooth extraction
Cosmetic facial surgeries

Rhinoplasty (nasal reconstruction)
Blepharoplasty, forehead/brow lift (cosmetic surgery of the eyes)
Dermabrasion (facial scarring treatment)
Otoplasty (cosmetic surgery of the ears)

Facial reconstructive surgeries
Corrective jaw surgery
Dental alveolar surgery
Facial fracture repair
Orthognathic surgery
Dental implants
TMJ surgery
Bone grafting/distraction osteogenesis
Clinic Information
Referrals
Drs. Viet, Thakker, Herford, Moretta, and Grandhi are accepting new patients. The doctor's name must be listed on referral. We are currently only accepting new patients referrals for Orthognathic, Oral Pathology/Cancer, & Trauma. 
Contact Information
LLUSD - Prince Hall
11092 Anderson Street
Entrance 2
Loma Linda, California 92350
Phone: 909-558-4423